Raistlin Martin was fifteen years old when he attacked his sleeping Grandfather with an axe in North Carolina. According to court documents Raistlin Martin was found in his Grandfather's room with the axe covered in blood by his father who would call police. The teen killer who has a history of mental illness was convicted at trial and sentenced to life in prison with no chance of parole for twenty five years.
Raistlin Martin 2023 Information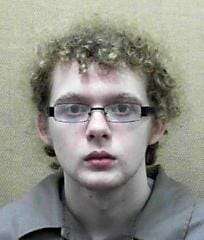 | | |
| --- | --- |
| Offender Number: | 1571489 |
| Inmate Status: | ACTIVE |
| Gender: | MALE |
| Race: | WHITE |
| Ethnic Group: | EUROPEAN/N.AM./AUSTR |
| Birth Date: | 11/02/2000 |
| Age: | 19 |
| Current Location: | FOOTHILLS CI |
Raistlin Martin Other News
Cumberland County teen who killed his grandfather with a hatchet two years ago could one day be freed from prison.
Raistlin Martin, 17, pleaded guilty last week to first-degree murder in the Aug. 8, 2016, death of 63-year-old Joseph Emmett Naulty. Superior Court Judge James Ammons sentenced him Tuesday to life in prison with the possibility for parole after 25 years.
Ammons had the option of allowing the opportunity for parole instead of handling down the mandatory life without parole sentence for first-degree murder because Raistlin Martin was a juvenile when the crime happened. Prosecutors chose to try him in adult court, however.
Naulty was hit 31 times with a hatchet, including 15 wounds to his head, according to authorities. His son, Joseph Ezekiel Naulty, found him covered in blood in bed after hearing him cry out. Martin, who also was covered in blood, and a bloody hatchet were near the bed.
Raistlin Martin, who was shackled in court Tuesday, wept as prosecutors described in grisly detail the wounds the grandfather suffered in the attack
The elder Naulty was a bully to his family, his son told Ammons during the sentencing hearing.
He had moved into Joseph Ezekiel Naulty's home on Elgin Drive after his wife died, and the younger Naulty blamed him for Martin's April 2016 suicide attempt.
Raistlin Martin, who was named for Raistlin Majere, an anti-hero character in the "Dungeons & Dragons" saga, told people of his plans to kill his grandfather over a cellphone app.
Authorities were able to recover 107 pages of text messages that had been deleted from Martin's iPhone in which he called his grandfather "kinda inconvenient" and stating that he wanted him dead.
Cumberland County Assistant District Attorney Robby Hicks said the messages showed Martin initially planned to poison his grandfather before changing his plans to a hammer attack and, ultimately, a hatchet attack.
"He couldn't get the pills to crush because they weren't very soluble," Hicks said in summarizing the text messages. "So, he changed his mind, but he was sure he wanted his grandfather dead, and he had never been so sure of anything in his life."
Public defender Bernard Condlin argued that Martin's parents had neglected him for years. The teen basically raised himself, reading texts such as "Mein Kampf" and stories of serial killers as part of his homeschooling while his father was at work.
Condlin also outlined various mitigating factors, such as Martin's immaturity, his mental instability and peer pressure. The peer pressure came not only from bullies the teen routinely faced but also from his own family, the defense attorney said, noting that Joseph Ezekiel Naulty put the idea of killing his grandfather in Martin's head after his suicide attempt.
"So now, we just start saying stuff like, 'You need to go on and kill your granddad because you're only going to go to jail until you're 19. Oh, but by the way, I'm just kidding," Condlin told Ammons.
https://www.wral.com/nc-teen-who-killed-grandfather-with-hatchet-will-be-eligible-for-parole/17376173/
Raistlin Martin More News
Raistlin Martin, who had spent much of his sentencing hearing Tuesday afternoon with his head bowed, and feet pumping nervously, rubbed his hands along his pants legs in relief.
His mother, who was sitting a couple of rows behind him in courtroom 3C of the Cumberland County Courthouse, fought back the tears. His father sat a distance away from his former wife on the same bench, lifting his head after sitting hunkered over following his earlier testimony. His hands remained poked into the pockets of a hoodie jacket.
Superior Court Judge Jim Ammons had just passed judgment, sentencing the 17-year-old Martin to life with the possibility of parole after 25 years.
On Feb. 15, Martin pleaded guilty to first-degree murder in the death of his 63-year-old grandfather, Joseph "Joe" Emmett Naulty, with a hatchet on the 3100 block of Elgin Drive. Martin lived there, in the Village of Rockfish subdivision off Tom Starling Road, with his grandfather and his own father, Joseph Ezekiel Naulty.
The crime occurred around midnight on Aug. 8, 2016.
Martin's mother, Persephone Martin Brown, declined to speak to the media afterward. Following the hearing, Naulty briskly departed the courtroom without a word.
According to state statute, it was Ammons' decision to determine the appropriate sentence for Martin: Should the teen get life without parole or life with the eligibility of parole after 25 years.
Martin had no prior criminal record, according to court testimony, and has been diagnosed as possibly suffering from bipolar and conduct disorders.
"Under mitigating factors," Ammons said during his ruling, "the mother finds abusive relationship existed between the defendant and the victim, with the victim suffering the abuse — mental, physical and emotional. I find also the defendant pled guilty, has admitted his guilt, criminal responsibility for the act.
And I find," Ammons added, his voice rising, "that the adults in charge of his life failed him on many levels almost since the moment of his birth."
Cumberland County District Attorney Billy West later called it "a fair decision that we certainly respect."
"This is one of those cases where we wanted to ensure that the defendant pled guilty to first-degree murder," he said.
https://www.fayobserver.com/news/20180227/fayetteville-hatchet-murdering-teen-gets-at-least-25-years-in-prison
Raistlin Martin Videos
Frequently Asked Questions
Raistlin Martin Now
Raistlin Martin is currently incarcerated at Foothills Correctional Institution
Raistlin Martin Release Date
Raistlin Martin is serving a life sentence however he is eligible for parole in 25 years