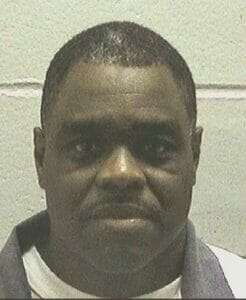 Scotty Morrow would be executed by the State of Georgia for a double murder. According to court documents Scotty Morrow would drive over to an ex girlfriends home and would shoot and kill her and her friend and shooting and injuring a third woman. Barbara Young and Tonya Woods would die from their injuries. Scotty Morrow would be executed by lethal injection on May 3, 2019
Scotty Morrow More News
Scotty Morrow, arms extended to his side, eyes open to the heavens, seemed at peace with his fate. Appeals exhausted, clemency denied, Morrow was just moments from death, and at 9:38 p.m. he became the first person executed by the state of Georgia this year.
His final words were contrite, his delivery, composed. The 52-year-old Gainesville man first addressed the relatives of the two women he killed nearly a quarter-century ago.
"I would like to give my deepest and sincerest apology to the Woods family and to the Young family," he said.
The father of two and grandfather of four said in his petition for clemency that he thought every day about what happened on Dec. 29, 1994.
Spurned over the phone by his ex-girlfriend, Barbara Ann Young, Morrow drove to her house and fatally shot her and her friend, Tonya Woods. He shot a third woman in the face and arm but she survived. The murders were witnessed by Young's 5-year-old son.
"I'm truly sorry for all that happened," Morrow said, strapped down on a gurney inside a small room toward the rear of the Georgia Diagnostic and Classification Prison in Jackson.
"I hope that you all recover and have healing," he said to the roughly 20 people who observed his execution.
Morrow also thanked his family for their support and asked for their forgiveness.
"I love you all. God bless," he said.
An imam gave the final prayer, telling Scotty Morrow he loved him.
At 9:26 p.m., prison Warden Benjamin Ford left the small room, signaling the injection of a lethal dose of anesthetic.
One woman in a white dress, sitting alone on the wooden pews facing Morrow, shook noticeably, holding back tears.
At 9:28 p.m., Morrow's chest heaved, tilting his head to the right. One minute later, he yawned.
Then, stillness.
At 9:37 p.m. two doctors entered the room, checking Morrow's vitals. One nodded to the warden, who announced Morrow's death. Morrow is the 73rd person executed by the state since the death penalty was reinstated in 1976, and the 50th by lethal injection.
"Tonight, justice was carried out for the families of Tonya Woods and Barbara Ann Young and the injured LaToya Horne," said Hall County District Attorney Lee Darragh, who witnessed the execution. "Twenty years ago, I stood in front of a jury and asked them for the sentence of death finally imposed. It was indeed a profound experience to witness the execution for which I had asked, but it was important I be present."
The U.S. Supreme Court had denied Morrow's final appeal to stay the execution at about 9 p.m. Thursday, two and a half hours after his defense team petitioned the nation's highest court.
Morrow was denied clemency Wednesday by the state Board of Pardons and Paroles. His attorneys argued that unplanned crimes of passion, such as the ones Morrow was convicted of, are rarely punished by death.
They also pointed out that jurors in Morrow's murder trial heard little about his traumatic childhood.
At age 3, Scotty Morrow watched his father stomp on his pregnant mother's abdomen, causing her to miscarry. Mother and son eventually fled to a relative's home but found no solace. That relative started raping Morrow when he was 7, his attorneys said. Another relative raped him one year later. Later, after moving to New York, Morrow was beaten repeatedly by his mother's new boyfriend, according to his clemency petition
A state court judge overturned Morrow's sentence in 2011, saying that his lawyers had not afforded him proper representation. A new trial was ordered, but the Georgia Supreme Court later reversed that decision and reinstated the death sentence.
On Tuesday, a Butts County judge dismissed a petition claiming Morrow's death sentence was unconstitutional because it was improperly imposed. Lawyers for the Gainesville man said the judge in Morrow's criminal trial decided which of the two murders he committed warranted the death penalty, a decision they said the U.S. Supreme Court has ruled must be made by jurors.
The Butts County judge on Wednesday agreed with attorneys for the state that those claims had already been rejected by higher courts.
On Thursday, the state Supreme Court agreed in a unanimous decision. The court described Morrow's appeal "as lacking in arguable merit" and it also denied a request from his lawyers for a stay of execution.
The state Supreme Court's ruling came just as Morrow was served his final meal — a hamburger, chicken and waffles, two hot dogs, a bag of buttered popcorn, a pint of butter pecan ice cream and a large lemonade. A Department of Corrections spokeswoman said he finished only about half the meal.
Earlier in the day, Scotty Morrow was visited by one friend, 10 family members, two members of the clergy, and four of his attorneys.
"Mr. Morrow's acts of violence were aberrations in a life otherwise characterized by kindness and compassion, and the man he became in December of 1994 bears no resemblance to the man he was before and the man he has worked to be since," his attorneys wrote in his clemency petition.
Prison officials testified Scotty Morrow was a model inmate who sought redemption for his crimes. His son and namesake said he was a positive influence on his four grandchildren. Counselors told the parole board he had been fully rehabilitated.
But the parole board was unswayed, denying Morrow's last, best chance at survival.
https://www.ajc.com/news/crime–law/georgia-set-execute-convicted-double-murderer-tonight/4r5Ibz4U8zNun6yEKqL02M/