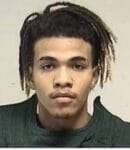 Martice Fuller was a fifteen year old who would break into his ex girlfriends home and shoot and kill her and shoot and injure her mother. According to court documents Martice Fuller would break into the Wisconsin home and would shoot and kill fifteen year old Kaylie Juga and shoot and injure her mother Stephanie Juga. Martice Fuller would go on the run but would soon be arrested, convicted and sentenced to life in prison without the possibility of parole.
Martice Fuller 2021 Information
Martice Fuller was just convicted a few days ago and has yet to be processed into the Wisconsin prison system
Martice Fuller More News

A Kenosha County judge sentenced Martice Fuller to life in prison for killing his ex-girlfriend and shooting her mother in 2019.
Fuller also will not be eligible for parole, the judge said.
Fuller shot and killed 15-year-old Bradford High School cheerleader Kaylie Juga.
At his sentencing Friday, Kaylie's mother, Stephanie Juga, pleaded with the judge to make sure Fuller never gets out of prison.
"She was always by my side. And she was my biggest cheerleader. And now I'm lost I just feel so lost without her," she said.
Requesting parole in 25 to 30 years, Fuller asked his attorney to read his statement, still claiming he didn't do it.
"Despite the hatred that is against me, I still am sorry, but I have to continue to stand innocent because I am," the attorney read.
But the judge wasn't swayed.
"I hope that you can right yourself in your life in your daily life. But it won't be among the community," Kenosha County Circuit Court Judge Mary Wagner said to Fuller.
Fuller had no visible reaction, walking out of court to head to prison for the rest of his life.
Fuller was also convicted of attempted homicide for shooting Juga's mother and burglary for breaking into the home.
https://www.wisn.com/article/teen-convicted-of-killing-ex-girlfriend-sentenced-to-life-in-prison/36504431
Martice Fuller Videos
Martice Fuller Forum
Discus Martice Fuller on My Crime Library Forums
Kaylie Juga Photos