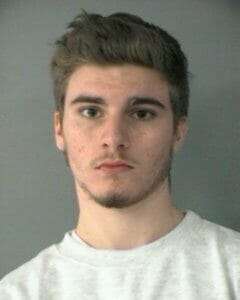 Maxwell Adams was seventeen years old from Virginia when he would murder his father. According to court documents police responded to a 911 call and would find Maxwell Adams and his father Dennis Adams suffering from stab wounds. Dennis Adams would be pronounced dead at the scene. Maxwell Adams tried to tell police that they were the victims of a home invasion however his story soon fell apart. This teen killer would be sentenced to 32 years in prison. Maxwell Adams would take his own life in 2019
Maxwell Adams More News
An 18-year-old Arlington man has been sentenced to 32 years in prison for killing his father, police announced Thursday. (Subscribe to Arlington Patch for realtime news alerts and daily newsletters.)
Maxwell Adams was sentenced Wednesday for the second-degree murder of his father—Dennis "Andy" Adams, 46—on April 1, 2016.
"Mr. Adams tragically lost his life in a senseless act of domestic violence by someone he spent his life caring for," Arlington County Deputy Chief Daniel J. Murray, Commander of the Criminal Investigations Division said, in a statement. "Today's sentence will not return Mr. Adams to his family, but we hope it provides some solace to know that the individual responsible will be held accountable for his actions".
On the night of April 1, officers responded to the 100 block of S. Glebe Road for an assault with injuries and found two people suffering from stab wounds. Dennis Adams was transported to George Washington University Hospital Trauma Center, where he was pronounced dead, police said.
Maxwell initially claimed he and his father were victims of an alleged home invasion, police said. Throughout the investigation, detectives uncovered numerous inconsistencies in Maxwell's account of these events.
Detectives ultimately determined the stabbing resulted from a domestic incident that took place inside a residence in the 3600 block of 3rd St. S.
https://patch.com/virginia/arlington-va/arlington-teen-sentenced-prison-killing-father-police
Maxwell Adams Suicide
Maxwell Adams took his life Thursday, March 14th, 2019 in the Augusta Correctional Center's isolation/segregation unit. Earlier that evening, according to word among the inmate population, he told the authorities that if they did not allow him to call his mother that he was going to kill himself. So today another mother will bury her child… "…In the thirty-eight years of my incarceration. I have witnessed men kill one another, rape one another, beat one another and cry for help from within the darkness as their mental health eroded away under peer pressure and the fear of dying alone in prison. But the worst of all is when they kill themselves out of feeling abandoned or rejected by family, friends and peers… "It is still everyone's responsibility to help others to see the value of living regardless of the struggle that an incarcerated lifestyle may bring. I know that God did not place these burdens upon us without a means of escape or help… The agony of grief in a suicidal person often goes overlooked until the coroner is notified to pick up the body."– by an anonymous fellow prisoner
http://harvyoder.blogspot.com/2019/04/hard-time-virginia-vol-4-no-3.html
Maxwell Adams FAQ
Maxwell Adams Suicide
Maxwell Adams would commit suicide in prison in 2019