Jquan McInnis Teen Killer Murders Man & Infant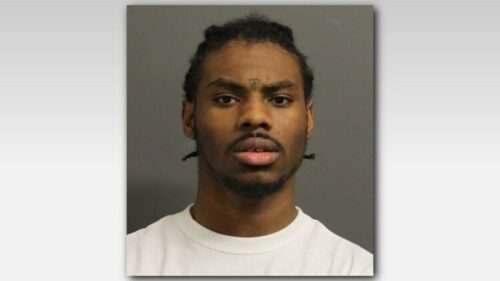 Jquan McInnis was seventeen years old when he opened fire on a vehicle killing a man and a infant. According to court documents Jquan McInnis believed that the victim had stolen something from him so he would run up to the vehicle and fire five times striking and killing the man inside. This teen killer would then fire into the back seat killing a seven month old infant. At court Jquan McInnis would be sentenced to two life sentences and must serve thirty years on each count meaning he must serve sixty years before he will be eligible for parole.
Jquan McInnis 2023 Information
MNDOC Offender ID:235357
Name:Jquan Leearthur Mcinnis
Birth Date:03/17/1999
Current Status:Incarcerated as of 02/21/2019.
Currently at MCF Oak Park Heights.
Sentence Date:02/19/2019
Anticipated Release Date:Life –
Jquan McInnis Other News
A then-teenage gunman will be an old man when, or if, he is ever released from prison after receiving a 60-year sentence in the deaths of a man and an infant.
Jquan McInnis, now 20, was sentenced Thursday in Hennepin County District Court for the fatal 2016 murders of Gustav Christianson II and 7-month-old Jayden Redden. Judge Jeannice Reding called McInnis' actions on that day "brazen and heartless." She sentenced McInnis to life in prison with the possibility of parole after 30 years on each first degree murder count and ordered them served consecutively, meaning the convicted gunman will be 78 years old before he can be considered for release.
McInnis was given credit for three years he's served in jail since the shootings took place.
During the trial prosecutors alleged that the shootings were carried out because McInnis believed Christianson had stolen from him. Investigators say the teen obtained a gun and when he passed a car parked near 26th Street East and 11th Avenue South with Christianson inside, McIniss told his companion to drive and park a block away. Prosecutors say McInnis then put his hood up to hide his identity, ran through several yards and fired five times, killing Christianson. As he was leaving, McInnis fired one more shot through the car's back window, striking the infant in his car seat, although missing the baby's father, the driver of the car.
During a presentence hearing evidence was presented that McInnis was likely exposed to drugs and alcohol in the womb, which is detrimental to development of the fetus. He was taken from his mother as an infant and placed with her mother and her husband where he suffered "chronic maltreatment," including a failure of the grandparents to follow up on school and mental health resources that could have helped McInnis.
Instead, he spent a lot of his time on the street, unsupervised, and "spent time with mostly older gang members and learned how to survive on the streets, including using violence as a way of conflict resolution," Judge Reding said. In deciding not to sentence him to life in prison without parole, the judge noted that both experts who examined McInnis said he is capable of being rehabilitated in prison.
KARE 11 reported that just months before the fatal shootings McInnis had been charged in the armed robbery and assault of a woman, but as a juvenile was given no prison time and released on three years probation.
https://www.kare11.com/article/news/crime/shooter-sentenced-to-60-years-in-murders-of-man-infant/89-31ff3e75-67c6-4b69-babc-29205c035ac1
Jquan McInnis More News
A man who was 17 years old when he was charged in the shooting deaths of a man and a baby in Minneapolis in 2016 has been sentenced to two consecutive life sentences in prison.
Jquan McInnis had been found guilty of two counts of first-degree murder in 2018, for a crime that happened in October 2016. He was indicted by a grand jury.
The victims were 20-year-old Gustav Christianson II and seven-month old Jayden Redden. Minneapolis Police said that McInnis was riding in a car with then 25-year-old Rashad Austin two years ago when McInnis saw Christianson in a car nearby. He then got out of the car and went up to the other vehicle, firing shots into it before running away.
Redden's father was also in the vehicle, and ran with the baby toward Children's Hospital before being met by paramedics, who treated Redden in an ambulance before transporting him to the hospital. He died a short time thereafter.
The two life sentences carry the possibility of parole after 30 years. However, as it was ruled they were to be served consecutively, the earliest McInnis will be eligible for parole will be after he serves a minimum 60 years in prison, when he is about 80 years old.
He has been given credit for the more than three years he has already served.
Jquan McInnis Gets 2 Life Sentences In 2016 Shooting Deaths Of Man, Baby
Jquan McInnis Videos
Frequently Asked Questions
Jquan McInnis Now
Jquan McInnis is currently incarcerated at MCF Oak Park Heights
Jquan McInnis Release Date
Jquan McInnis is serving life without parole