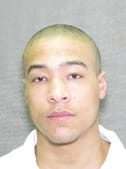 James Broadnax would be sentenced to death by the State of Texas for a double murder. According to court documents James Broadnax would murder two Christian music producers, Stephen Swan, 26 and Matthew Butler, 28. James Broadnax would be arrested, convicted and sentenced to death
James Broadnax 2021 Information
Name
Broadnax, James Garfield
TDCJ Number
999549
Date of Birth
10/30/1988
Date Received
09/02/2009
Age (when Received)
20
Education Level (Highest Grade Completed)
10th Grade
Date of Offense
06/19/2008
Age (at the time of Offense)
19
County
Dallas
Race
Black
Gender
Male
Hair Color
Brown
Height (in Feet and Inches)
6′ 2″
Weight (in Pounds)
185
Eye Color
Brown
Native County
Monterey County
Native State
California
James Broadnax More News
Minutes after he learned a jury had sentenced him to death, killer James Broadnax laughed at the mother of one of his murder victims as she told him how he had devastated her life.
"You stole our son," Teresa Butler said Friday from the witness stand during that period after the trial where relatives can confront the defendant. "I couldn't say it better than you said it yourself — it would have been better if you'd never been born."
With his back to the room, most people in the court could not see as Broadnax laughed. But assistant district attorney David Alex later said he saw it happen.
As she left the stand, Butler admonished Broadnax to stop laughing.
Prosecutor Alex said Broadnax's reaction was telling.
"Even at this point, after seeing how many people he's affected, he's still over there laughing," he said.
He appeared to have no reaction earlier when he was sentenced to die by lethal injection for the murder of Stephen Swan. He also has confessed to killing Matthew Butler as the two left a Garland recording studio in June 2008.
When the sentence was announced, friends and relatives of the victims smiled grimly, embraced and wiped away tears.
Broadnax's mother, Audry Kelly, dabbed at her face, and held tightly to a member of the defense team.
The jury deliberated for about eight hours over two days.
"We just took our time going through all the evidence," said Jay Williams, one of nine men and three women on the panel. "We came to the decision without any reservations, with a very clear conscience."
Jury foreman Robert Patterson said the jury "went through a very thoughtful process" and no one person was at odds with the others.
Patterson, the lone African-American on the jury, was placed on the panel at the insistence of judge Michael Snipes, who was concerned that the group sitting in judgment on the bi-racial defendant be racially diverse.
"I was not aware of that fact," Patterson said, adding that, "Race was not an issue with respect to the decision we made."
The Broadnax case was the third capital murder jury Patterson has served on, but the first one in which prosecutors have sought the death penalty.
Patterson said television interviews Broadnax gave after the crime, in which he boasted about killing the two men and expressed no remorse or sympathy for their families, influenced jurors more than the defendant's impassive demeanor in the courtroom.
Defense attorney Brad Lollar insisted his client does regret his actions. "James has repeatedly expressed to me that he was remorseful for the pain he's caused," he said.
He also said his client "wanted me to tell anybody out there they should stay away from PCP." The defense maintained during the trial that one reason Broadnax committed the cold-blooded killings was because he was under the influence of drugs.
Broadnax apparently wrote letters to both victims' families last year expressing his regret. Jamie Butler Cole, widow of Matthew Butler, referred to the letter she received when she told Broadnax during her statement that she forgave him.
She did so, she stressed, for her sake, not his. "It gives me freedom to live my life," the mother of two said.
But Deborah Swan, sister of Stephen Swan, said she didn't know if her family had received such a note.
She has not been able to forgive Broadnax, she said. "I would like to say that I have, but I can't."