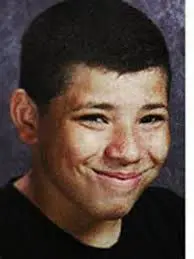 Raul Castro was fourteen years old when he murdered a four year old boy. According to court documents Raul Castro would lure a four year old boy into his home and would sexually assault him. When the boy started to cry Raul would put the child into a bathtub where he would drown the child. Castro would put the body of the child into the dryer where he would be discovered. This teen killer would be convicted and sentenced to life in prison with a chance of parole after thirty three years
Raul Castro Teen Killer Forum Link
Raul Castro 2019 Information
| | |
| --- | --- |
| CDCR Number | AH0674 |
| Age | 24 |
| Admission Date | 10/05/2011 |
| Current Location | Sierra Conservation Center |
| Location Link | Directions |
| Parole Eligible Date (Month/Year) | 08/2030 |
Raul Castro Other News
A Mendota teenager was sentenced Friday morning for the murder of his four-year-old neighbor.
15-year-old Raul Castro will spend 33 years in the Department of Corrections before he is eligible for parole.
Castro must also register as a sex offender for life.
In April, a Fresno County judge found him guilty of sexually assaulting and killing Alex Mercado in October 2009.
Alex's body was found stuffed in a clothes dryer in Castro's home.
Raul Castro More News
A state appeals court has reduced the prison sentence of a Central California teenager convicted of molesting and drowning his 4-year-old neighbor and then hiding the boy's body in a clothes dryer.
The 5th District Court of Appeal ruled that the trial judge erred in adding eight years to Raul Castro's sentence for his sex-crime convictions. The Mendota teen was convicted of forcible sodomy on a child and a forcible lewd act on a child in addition to first-degree murder in the 2009 slaying of Alex Mercado.
Authorities say Castro, then 14, drowned the preschooler in a bathtub after Mercado said he would tell his mother about the sexual assault.
The Fresno Bee reports that the appeals court reduced Castro's sentence last week from 33 years- to-life to 25 years-to-life in prison
https://bakersfieldnow.com/news/local/central-valley-teens-sentence-reduced-in-dryer-killing