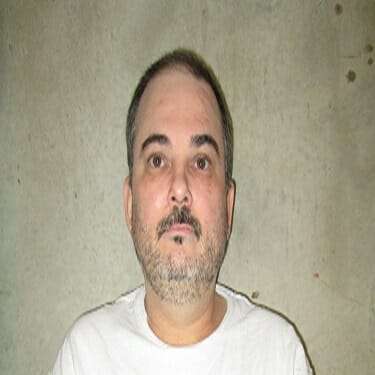 Wendell Grissom was sentenced to death by the State of Oklahoma for a robbery murder. According to court documents Wendell Grissom and Jessie Johns forced their way into a home at gunpoint and would shoot and kill Amber Matthews and injure Amber Kofs who was able to escape and call police. Wendell Grissom would be arrested, convicted and sentenced to death.
Oklahoma Death Row Inmate List
Wendell Grissom 2021 Information
Gender: Male
Race: White
Height: 5 ft 9 in
Weight: 216 lbs
Hair Color: Brown
Eye Color: Brown
---
---
OK DOC#: 575281
Birth Date: 10/11/1968
---
Current Facility: OKLAHOMA STATE PENITENTIARY, MCALE
Reception Date: 6/30/2008
Wendell Grissom More News
It took a Garfield County jury nearly three hours Thursday to return a death sentence for an Arkansas man convicted of first-degree murder for killing a Kingfisher woman in 2005.
Wendell Arden Grissom, 39, barely stirred as the jury's foreman told the court Grissom's sentence would be death.
Grissom was convicted of shooting Amber Matthews, 23, to death Nov. 3, 2005, in what authorities said was a robbery attempt. Another woman, Drue Kopf, was wounded. A change of venue to Garfield County was granted for Grissom and his co-defendant, Jessie Floyd Johns, who will be tried at a later date.
The foreman said the jury found Grissom's act met three aggravated circumstances that allowed prosecutors to seek the death penalty.
The jury found Grissom knowingly created a great risk of death to more than one person through his actions, the murder was committed by a person while serving a sentence of imprisonment on conviction of a felony and a probability exists Grissom would commit criminal acts of violence constituting a continuing threat to society.
Grissom was found guilty of first-degree murder, shooting with intent to kill, grand larceny and possession of a firearm after a felony conviction following 54 minutes of deliberation Tuesday.
The jury recommended a life sentence for shooting with intent to kill and sentences of 25 years and 40 years for grand larceny and possession of a firearm by a felon
On Nov. 3, 2005, Grissom entered Kopf's home, northeast of Watonga, shooting Kopf several times. Grissom then shot Matthews twice in the head, once while she was holding Kopf's 5-week-old daughter and again as she lay on the floor of the children's room.
Kopf was in the courtroom, surrounded by family and friends, and cried as she hugged Matthews' father, Gary Matthews.
During closing arguments, Assistant District Attorney Mike Fields began by projecting a picture of a vibrant, smiling blonde woman onto a screen in the courtroom and asking the jury to take a moment to look at Matthews.
Fields told the jury they had the opportunity to answer the "violence and brutality" of Grissom's acts.
He said when he was younger, and he and brother would get into trouble, his mother would say, "Your actions have spoken so loudly I can't understand a word you're saying."
He added: "Her simple words speak so true to this case."
Fields asked the jury to picture three images from Nov. 3, 2005.
"After he was dropped off at the Hill Stop Cafe, defendant Grissom went inside and calmly ordered a beer," Field said.
At the nearly the same time, Fields said, at the Kopf house Matthews was lying of the floor in a pool of blood and vomit in the children's room, "gasping for breath," as 5-week-old Gracie lay beside her in a pool of blood and 2-year-old Rylee cried nearby, not understanding what had just happened. It was about 30 minutes before law enforcement arrived.
At Watonga Hospital, Kopf was lying miles from her dying friend, he said.
"She believed in heart of hearts her best friend and children were dead," Fields said.
He said all of those images were occurring within the same 30 minutes.
"Those 30 minutes must have felt like 30 years for Amber Matthews. Those 30 minutes must have felt like 30 eternities," Fields said. "Judge this case as if you'd been in that room for those 30 minutes."
'Pitiful little man'
Grissom's attorney, J.W. Coyle, told jurors they had come a long way in the past two weeks and reiterated what he'd said during jury selection.
"Today, you come face to face with an individual moral decision of if a man lives or dies," he said. "The awesome responsibility you have is yours and yours alone."
Throughout his closing, Coyle referred to Grissom as "this pitiful little man" and said he'd offered no excuses for what happened.
Gesturing toward Grissom's family, Coyle said, "Imagine these poor people, who have this pitiful son, going to McAlester to watch their son die."
McAlester is the location of Oklahoma State Penitentiary, where prisoners sentenced to death are housed and executed.
Coyle revisited the troubles of Grissom's life presented during the trial: problems with speech, a motorcycle accident, problems with alcohol and drugs and a troubled relationship with his ex-wife.
Coyle reminded jurors the decision to choose had to be a unanimous one.
"It is not a debate society. It is not an argument," he said. "It is a personal, moral decision. There is no obligation ever to change your personal decision."
During redirect, Fields said he wanted to respond to some of Coyle's comments.
"I'm certain that the defendant's alcoholism means nothing to Amber and her family," he said. "I also know that this pitiful little man, with evil in his heart and a gun in his hand, can destroy people's lives."
In response to Coyle's statement about Grissom's family driving to McAlester, he asked: "I wonder how it must feel to go to Amber's graveside on her birthday?"
Fields called the murder a senseless act and told the jury: "Justice in this case is a death sentence."
Following the verdict, District Judge Ronald Franklin ordered a presentencing investigation for the larceny and firearm convictions.
Grissom will be sentenced at Blaine County Courthouse June 26 on the two charges