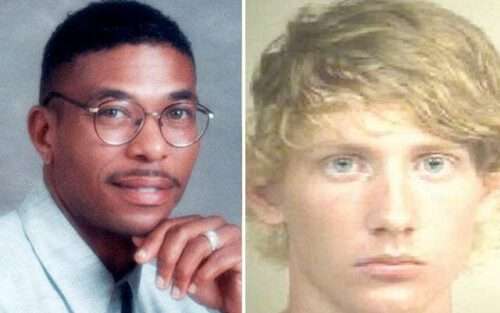 Deryl Dedmon was eighteen years old when he murdered a man with his truck because of the color of his skin in Mississippi. According to court documents Deryl Demon and two other men were driving around when they saw the victim in a motel parking lot. The trio would jump out of the truck and proceeded to beat the victim . Deryl Dedmon would go back in hi truck and run over the victim repeatedly.
When this teen killer was arrested he would admit to police the only reason why they targeted the victim was the color of his skin. Deryl Dedmon would be convicted of the murder and hate crime charges. Due to the nature of his crime Dedmon is in the Federal Prison System.
Deryl Dedmon 2021 Information
DERYL PAUL DEDMON
Register Number: 16507-043
Age: 27
Race: White
Sex: Male
Located at: Otisville FCI
Release Date: 10/13/2055
Deryl Dedmon Other News
Deryl Dedmon, 19, received two concurrent life sentences for the racially motivated murder of 49-year-old James Craig Anderson, who died after being beaten and mowed down in a motel parking lot last year.
Dedmon's admission that he killed Anderson because of his race doubled the teen's penalty under the state's hate crime statute.
"I was young, I was dumb, I was ignorant," Dedmon said during his court hearing in Jackson. "I was full of hatred."
The sentencing came as the shooting death of a black teenager by a neighborhood watch captain in Florida has again put a national spotlight on the issue of minorities being targeted due to the color of their skin.
Anderson, a Nissan auto worker, was returning to his car before dawn on June 26 when he was confronted by a group of white teenagers in a motel parking lot.
The teens had been drinking at a birthday party and drove to Jackson specifically to harass African-Americans, said Hinds County Assistant District Attorney Scott Rogillio.
Anderson was physically attacked by the group before Dedmon deliberately ran over him with a Ford F-250 truck, Rogillio said. Anderson died at the scene.
Dedmon yelled "white power" during the attack, Rogillio said.
"Your prejudice has brought a great stain on the state of Mississippi," Circuit Court Judge Jeff Weill Sr. told Dedmon.
Mississippi has a long legacy of racial discrimination and was a focal point of Civil Rights activity during the 1960s and since. The racist Ku Klux Klan was prominent in the state for decades and remnants of the group remain.
Deryl Dedmon Videos