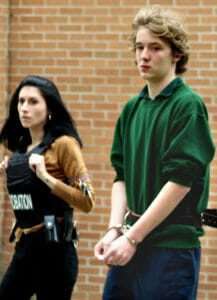 Dylan Robinson was a fifteen year old teen killer from New York who would murder his father. According to court documents Dylan Robinson along with four others: , Alexander Borgreen, Anais Soto and Alexis Lottermann would break into Dylan fathers home in order to steal money for drugs. Dylan Robinson would fatally shoot his father before setting his home on fire. Dylan Robinson would be arrested, convicted and sentenced to twenty five years in prison
Dylan Robinson 2021 Information
Due to his age Dylan Robinson is in the juvenile system for New York Department Of Corrections
Dylan Robinson More News
The Otsego County teen accused of killing is father at his Worcester home in 2019 was found guilty of murder Wednesday.
Dylan Robinson was convicted of burglary and second-degree murder, after he and four others broke into Kenneth Robinson's home to steal money and drugs, shot the man and then set his home on fire. Dylan was not convicted on the arson charge.
Dylan was 15 at the time of his arrest. He and four other minors, and adult Nicolas Meridy, were charged. Two of the teens, Alexander Borgreen and Anais Soto, were also charged with second-degree murder, burglary and attempted robbery. A fourth minor, Alexis Lottermann, was charged with burglary as well. The ages of the defendants, especially that of Robinson, who faces life in prison, weighed heavily upon the prosecutor.
"I hate prosecuting juveniles. I just hate prosecuting people that are not adults. Very difficult to do, such a huge impact on the rest of their life. But this really was a horrible crime," said Otsego County District Attorney, John Muehl.
Borgreen pleaded guilty to burglary in November of 2020. His testimony was part of his agreement, which brought him a 12-year prison sentence. Muehl says Borgreen refused to testify, so he might reopen his case. Soto's agreement was 10 years.
Meridy pleaded guilty to second-degree murder in August of 2020 and was sentenced to 23 years to life in prison.
Dylan's sentencing is scheduled for Aug. 23. He faces 25 years to life in prison.
https://www.wktv.com/content/news/Worcester-teen-found-guilty-in-fathers-murder-574692161.html